27/10/2008
Buy now and title deed later for much lower costs, thanks to the so called Credit Crunch we have had to search for a way around things and we feel we have found a solution so that you the buyer can still purchase the house of your dreams, people still require properties and wish to be property owners rather than paying long term rents which are really the mortgage payments for someone else´s house.
Call and find out about this possible option, we believe that it could be the solution you were waiting for you to be able to buy your place in the sun, where the banks cannot reach the people can providing there is a little will power applied, call now and ask for more information.

Sales information
Tel. 672 000 869
Telf. 96 685 53 13
Environment
The Costa Blanca takes in the corresponding coast line of the province of Alicante which is recognized as the Mediterranean. The Mediterranean sea bathes a land full of light and enjoys an exceptional climate throughout the whole year. From Denia through to Pilar de la Horadada it is possible to take advantage of the finest touristic infrastructures, spectacular country side and a varied range of cuisine, popular fiestas, sports, culture and many other amenities.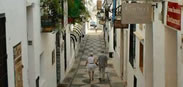 Home finder