01/04/2009
There will be a service charge to the equivalent of HALF of one month's fees to the tenant from the agency as well as the owner of the property due to the agency giving a service to both parties.
Please note that should the tenant vacate the property before completion of contract they will lose their deposit due to non fulfillment of the rental contract and penalization. Also any costs for breakages or damages to the property will also be deducted from the deposit. The contract must be abided to in full.
All contracts will be strictly abided to and any failure to complete on any of the clauses in the contract will be classed as breach of contract and the contract will be terminated and no funds will be returned to the tenant under any circumstance and the tenant will asked to vacate the property immediately according to the Spanish law court system.
Example.
One month´s deposit.
One month´s fees.
One month´s actual rent.
These terms are not flexible !!!

Sales information
Tel. 672 000 869
Telf. 96 685 53 13
Environment
The Costa Blanca takes in the corresponding coast line of the province of Alicante which is recognized as the Mediterranean. The Mediterranean sea bathes a land full of light and enjoys an exceptional climate throughout the whole year. From Denia through to Pilar de la Horadada it is possible to take advantage of the finest touristic infrastructures, spectacular country side and a varied range of cuisine, popular fiestas, sports, culture and many other amenities.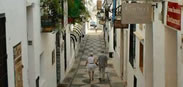 Home finder