Popular fiestas in Alfaz del Pi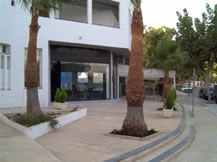 Alfaz del Pi as well as many other Mediterranean towns shares its desires for fiestas. Throughout the whole of the Valencian Community fiestas are held during the year, they are noted for their popularity, great atmosphere and spectacular colour.
They are a great attraction for tourists who wish to enjoy the atmosphere in themes such as history and religion.
The town of Alfaz del Pi is renowned for:
The Creueta Festival
The Creueta festival is held during the days of the 5th and 6th of May.
At the end of the week the church mass is held and street parties with music appear while flowered crosses of May appear on the streets.
The Albir beach summer festival:
The programme for the beach festival counts on a wide and varied offer of events, sport competitions, street parade accompanying the Queen and maids of honor, games, kiddies play areas and toys, children´s dance, concerts, street parties and fireworks.
Major Fiestas of the great Saint Cristo del Buen Acierto.
This deals with the fiestas sponsored by the villagers in honor of the saint, Cristo del Buen Acierto.
The celebrations include, processions, comedy parade and fireworks amongst other attractions.
Purisima Fiesta
During the Purisima Fiestas, street parties are held in Alfaz with shows, fireworks and local food and drinks products are on offer to one and all.
Besides its religious aspect, the church bell mass and the processions are the most important parts.

Sales information
Tel. 672 000 869
Telf. 96 685 53 13
Environment
Home finder