Alfaz del Pi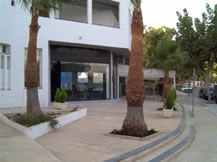 Alfaz Del Pi is a town situated on the coast line of the Alicante region, set 50 km from the town of Alicante and the region of the Marina Baja.
The center of Alfaz del Pi is situated 3km from the coast skirting the bottom of the Sierra Helada mountain range. At the same time it boasts 4km of beaches which are known as the beaches of Albir. Bathed in clean, crystal clear waters, the coast line of Alfaz is an invitation to relax and take life easy.
The warm welcoming by its people who are accustomed to the tourist combines with a tremendous offer of excellent services, sports facilities, beautiful place to stay and well developed urbanizations.
The origins of Alfaz del Pi are that it was the stronghold for defenses against pirate attacks. Today the town is noted for its residential and cultural areas which spread far and wide.
The beach, lighthouse and sea side walk way make give Alfaz a Meiterranean character and every year the Cinema Festival is held in July.
Villa in Alfaz del Pi (Ref. CH404)

Perfect Conndition

A very impressive detached villa of 450m2 build with two guest apartments included of 75m2 and 85m2, each with two bedrooms, the villa is within walking distance to the center of Alfaz Del Pi with all... [Read more]

Sales information
Tel. 672 000 869
Telf. 96 685 53 13
Environment
Home finder