Gastronomy & leisure in Alfaz del Pi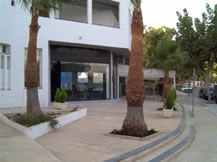 Alfaz del Pi also offers an interesting range of gastronomy and recreation which the visitor to this villaje can enjoy during their stay.
Cuisine
The gastronomy of Alfaz del Pi is based upon the traditional plates of the area known as the Marina Baixa, using ingredients from the local area and following the traditional recipies such as Les Pilotes de Dacsa.
Also the village cultivates and bottles its own wines known for its origins as Los Vinos de Medoza.
Recreation
Sports
The municipal sports complex offers excellent installations to practice sports up to the levels of professionals, above all athletics.
The fantastic surroundings of Alfaz also offer the opportunity to take advantage of te varied range of water sports such as wind surfing and scuba diving.
Events
At a certain time of the year it is possible to enjoy the Alfaz del Pi Cinema Festival where one can enjoy the presence of famous actors and actresses, every year these professionals offer a little bit of glamour to the beach area of Albir, the festival also offers the short film contest.
During the month of July it is also possible to participate not only in its projects but also numerous other activities that area available at the time.
Excursions and beauty spots
Apart from the urban areas of Alfaz del Pi and the beaches of Albir, one cannot miss the opportunity to take a walk to the lighthouse which can be reached via a footpath from the beach of Albir, from here one can enjoy spectacular sea views, the pleasant village of Alfaaz is only five km from the ever popular Benidorm.
To add to this it is possible to enjoy some great walks through the tracks on the mountain of Sierra Helada with it´s fantastic views and steep cliffs.

Sales information
Tel. 672 000 869
Telf. 96 685 53 13
Environment
Home finder